There are many key characters in the storyline of Another Case Solved. The character dialogue is slightly skewed depending on if your character is a man or a woman.
Default detectives
Edit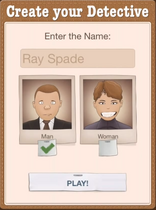 Male detective.
Female detective.
Female Characters 
Edit
A police officer, and your police contact. If playing as a male detective, he will flirt with her throughout the story.
Journalist.
Widow, 79 years old.
Daughter of Lionel Duffing, 7 years old. Likes cats.
Pop singer. Bravucci's friend.
Jack Calltrain's fiancée. Likes jazz.
Owns a restaurant.
Male Characters
Edit
Mayor. Created a city-wide sugar prohibition. Behind the shooting of Paul Litzer.
Judge dealing out intense punishment for sugar-related crime.
A thief and your underground contact. If playing as a female detective, he will flirt with her through the storyline.
Police commissioner.
Actor, 39 years old. Has a gambling habit. Will flirt with you if playing as female detective.
Journalist, 63 years old. He is Pola's father.
Attorney, 43 years old. Daisy Duffing's father, widower.
Works at a hospital.
Betty's fiancee, also likes jazz.
Media in category "Category:Characters"