"The day after the fire Pola entered my office and asked to find the arsonist. I was already on the trail."
Pola Chapelle: I need to talk to you, detective. I have a case for you. I'll even pay extra.
Detective: You don't need to pay me to catch Paul's killer, Pola.
Witnesses
Edit
Detective: I need to investigate the crime scene, interrogate the witnesses, rummage through the embers.
3 photos
4 fingerprints
3 maps
1 police badge
3 photos
2 maps
Detective: Hmmm. I think there's still one more lead I can follow.
Detective: McLean? Can you talk to me?
Leonardo McLean: Why? I'm a crook, after all. You probably think I'm the arsonist.
Detective: No, it's not like that! I need your help. Because you're a crook.
Detective: You broke into that apartment building, right? You must have done some research, gather intel. Anything I should know about?
Leonardo McLean: Well, an insurance agent was visiting the place, so I thought that maybe someone had valuable stuff in there. But the fire started a day after.
City search: When in Doubt, Follow the Money
Edit
Detective: I should find the insurance agent Leo told me about. Maybe I should ask at the company's headquarters.
The insurance agency is:
in the distance of 1 from railways
not more than 2 from a press building
more than 1 from train stations
more than 1 from offices
more than 2 from gas stations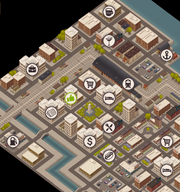 Detective: Metropolitan Insurance Agency. Isn't this where Maud Beans works?
Detective: Excuse me, Ms. Beans, but I've heard that one of your agents insured a place that burned down at 25th Street. Paul Litzer died in that fire.
Maud Beans: Oh my, that's awful! I can't tell you much, because we're running an investigation and it'll be weeks before we each a conclusion... But I found out that one of the apartments was insured just before the fire.
Detective: This looks like an insurance fraud.
Crime scene search: No Rest For The Wicked
Edit
Detective: While everyone gathers for the service, it's my chance to find the arsonist. The question is, who insured an apartment just before the fire?
Lucy Gordon: We need to talk, detective.
Detective: Oh, Lucy. Are you here to try to arrest me again? If I'm not mistaken, I just broke into a car.
Lucy Gordon: Please, stop it. I'm sorry that I didn't trust you and I came here to tell you that I... wait, you broke into a car? What for?
Detective: To get this. A business card from an insurance agency. The owner of this car insured his apartment just before the fire. I'm sure that if we take his prints...
Lucy Gordon: ... they'll match the prints from the jerry can! You're right! We have to watch closely all the people attending the funeral!
Suspect identification: The Burning Conscience
Edit
Detective: One of the people here is responsible for the arson and Paul's death. But who?
Lucy Gordon: You'll be able to figure that out. I'll watch the exits and make sure no one sneaks out.
Ad blocker interference detected!
Wikia is a free-to-use site that makes money from advertising. We have a modified experience for viewers using ad blockers

Wikia is not accessible if you've made further modifications. Remove the custom ad blocker rule(s) and the page will load as expected.